This is an updated review. It is mostly the same, but I updated prices and availability, and added a few more thoughts. I will post a link to this updated version in the old post. I plan to update the photos as soon as possible.
Some of Real Techniques' gems hide in kits like these, the Core Collection of face brushes. This set contains the Contour, Pointed Foundation, Detailer, and Buffing brushes, as well as a handy case.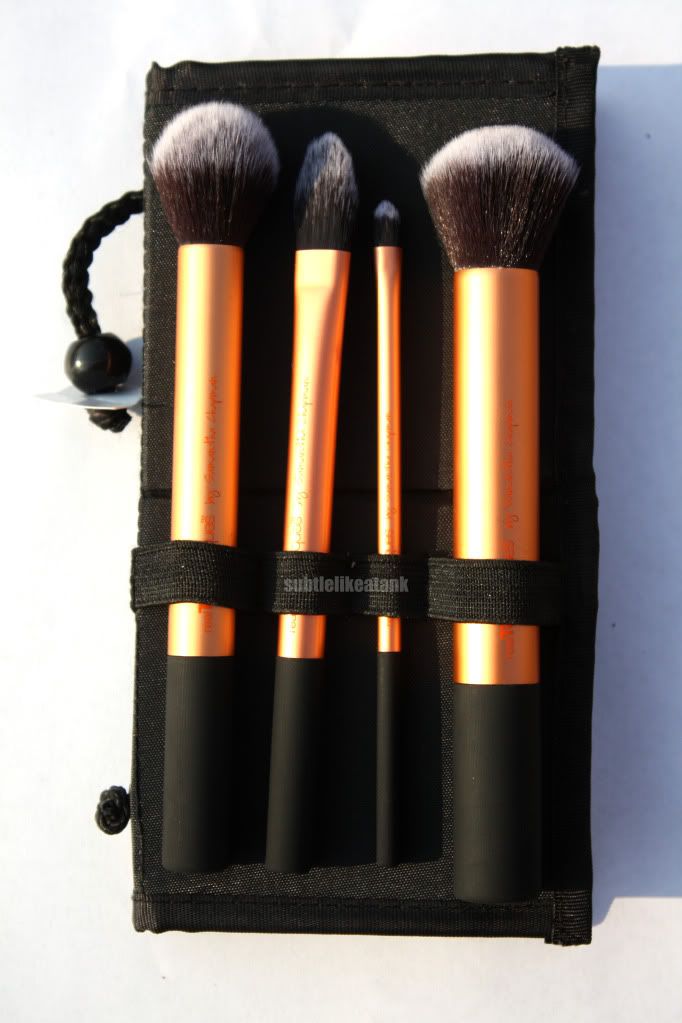 I'll go through each brush individually, just to make it easier. Please click the link below to read the rest of the post.
I'll start with my favorite!
The
Contour Brush
looks like it was designed in the vein of the MAC 165, with a medium density, a tapered shape, and relatively short bristles.
What it claims:
"delicately applies highlighter to contour or create sheer, soft-focus finish"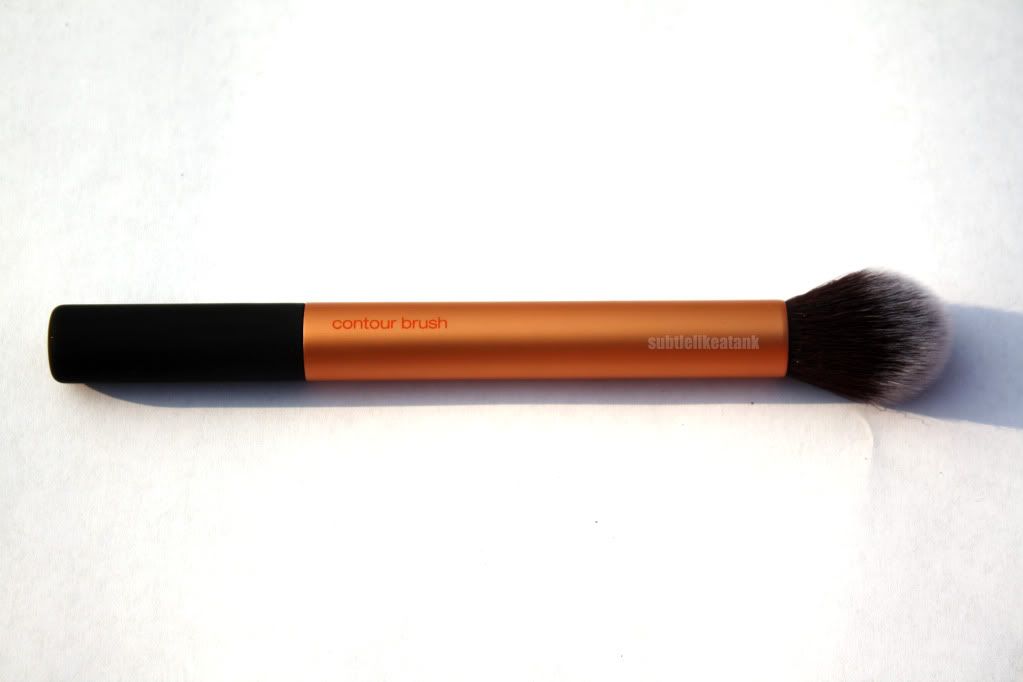 I do find that the Contour brush comes to less of a point than the 165. I quite like that, as it's easier to blend a contour color with the softer point. It also isn't quite as long, so it does a lot of the blending on its own.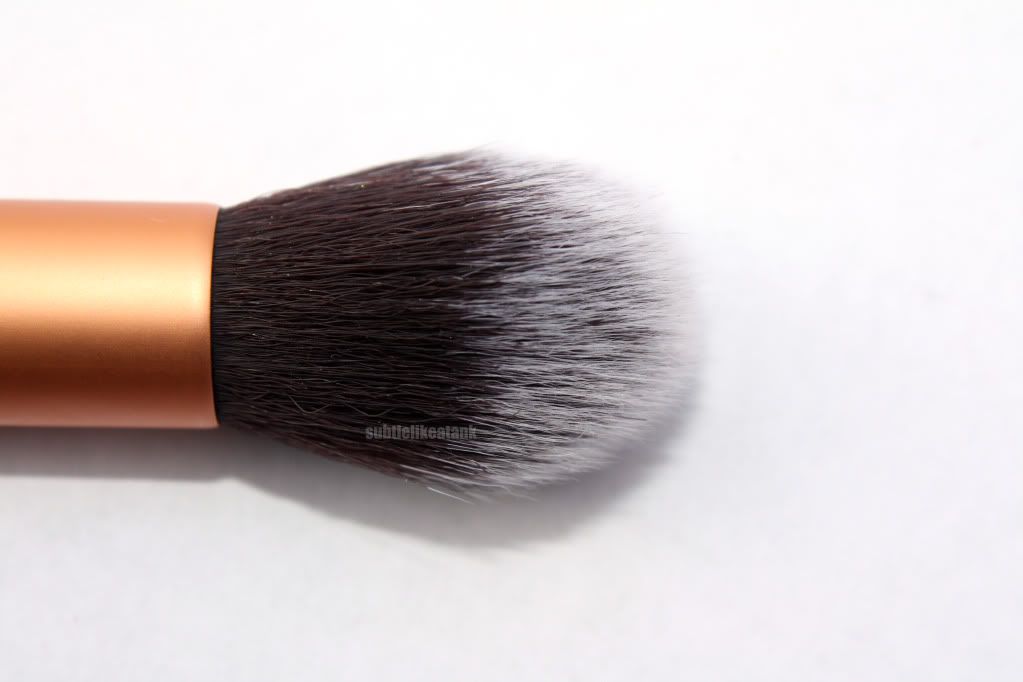 The Contour brush is pretty compact, which makes it great for highlighting on my cheekbone or browbone, or especially the bridge of my nose and upper lip, or for contouring my nose and temples. This brush makes a nice blush brush as well.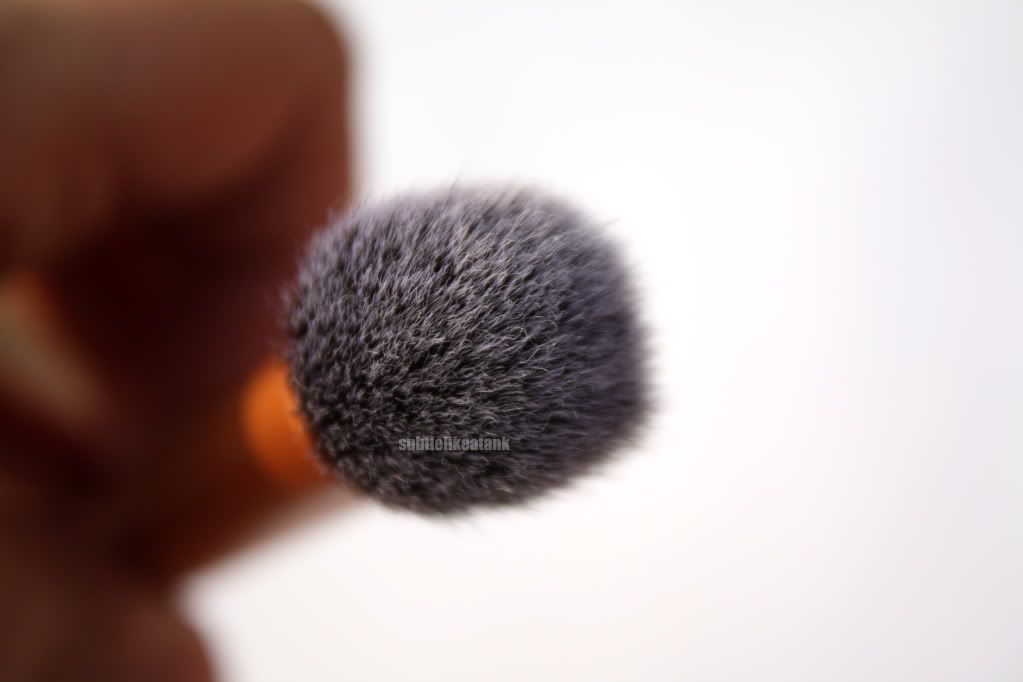 The
Pointed Foundation brush
is a strange little thing. It's got a definite point to it, moreso than most other foundation brushes, and is tiny for a foundation brush. Scroll back up to take a peek.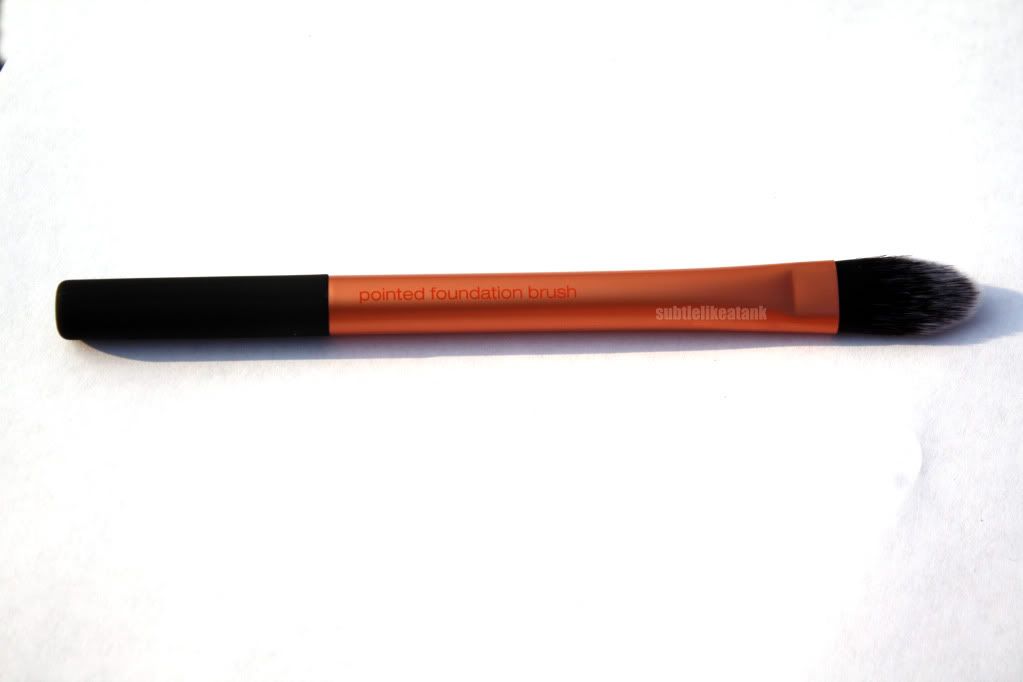 What it claims:
"Use with liquid foundation to build custom coverage"
Yeah, if you have a lot of time or only use foundation on part of your face. If you color correct, say, just on your chin, this brush will suit you perfectly. Otherwise, it does take a bit of time to cover your whole face with it.
I do like to use it for concealer, especially under my eyes. The point allows me to get right into the corners, and it is fluffy (fluffy is the wrong word, but it's got a fluffy...ish edge) so it blends foundation better than a standard issue concealer brush.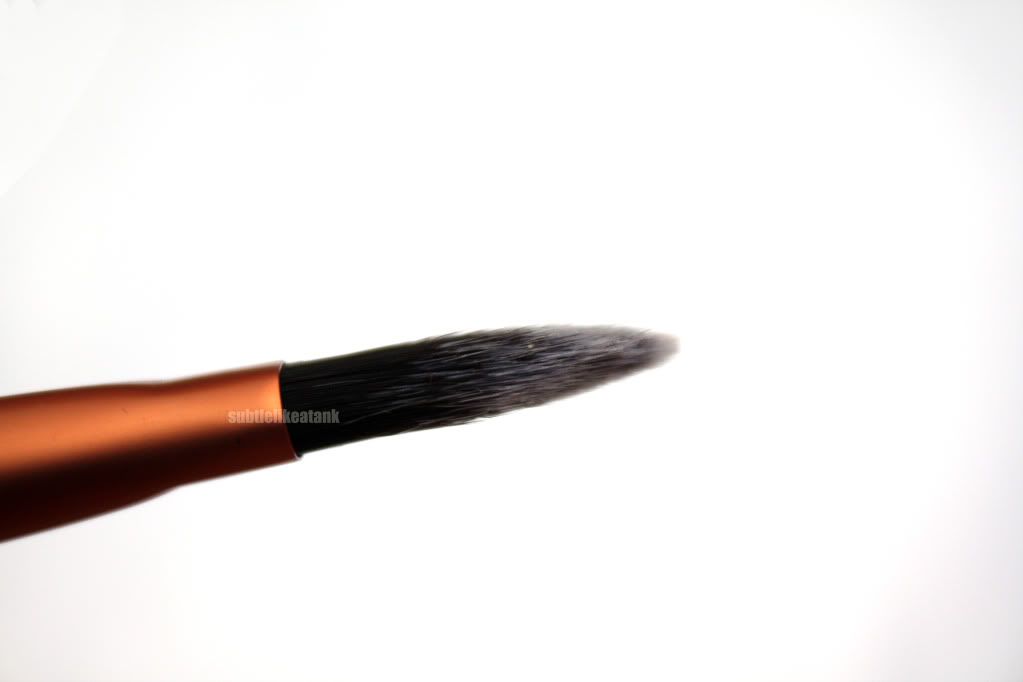 The
Detailer Brush
is a brush that I wouldn't have thought to put in the set, but I enjoy that it's there.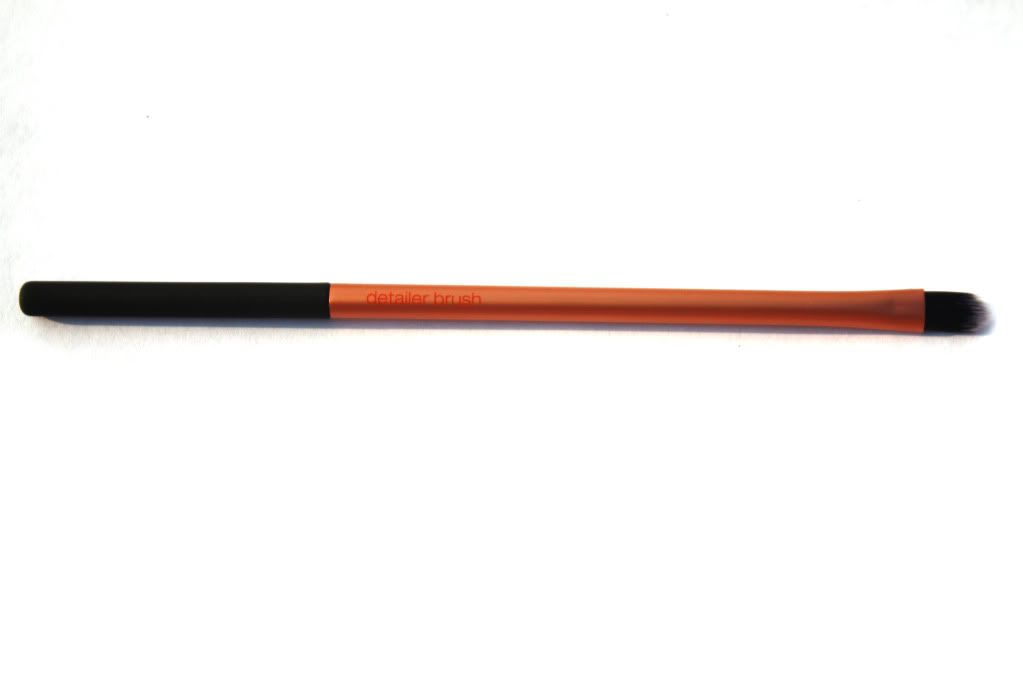 What it claims:
"precision cut to effortlessly conceal problem areas; or, use with lipstick for long-lasting shape and definition"
Take a closer look at this brush. It's pretty self-explanatory.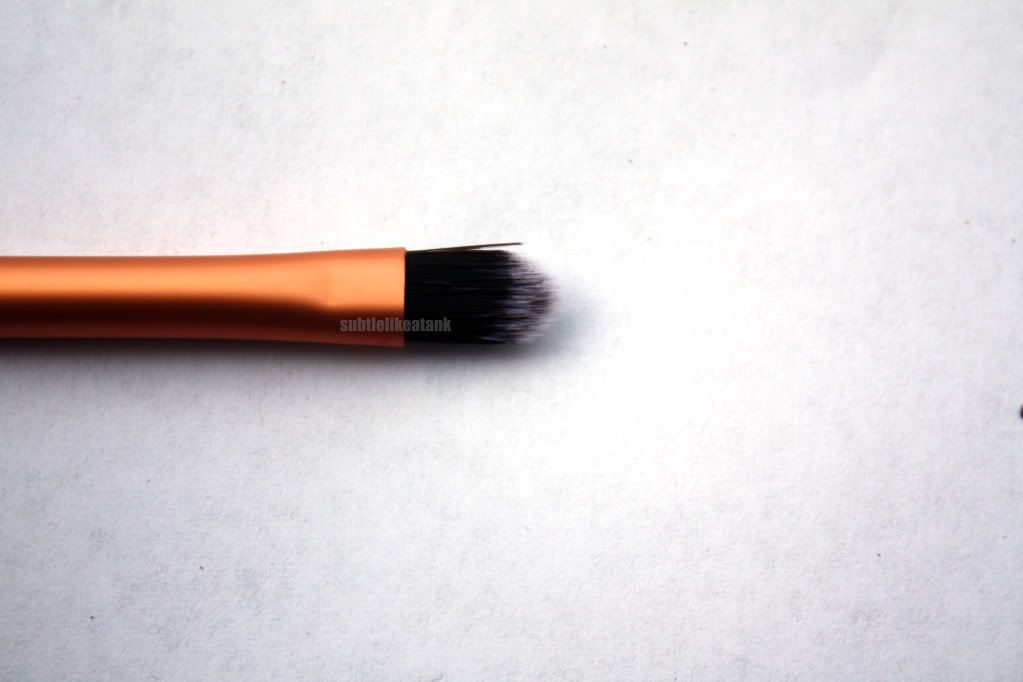 It's small enough to do some nice concealing, but I prefer it as a lip brush. Because it's synthetic, even things like OCC Lip Tars wash right out of the bristles. I also like the rounded shape for my lips--I find flat or angled brushes more difficult to use.
It also helps that it's teeny tiny.
The
Buffing Brush
is another standout of the Core Collection. It's like a bigger, slightly fluffier MAC 109.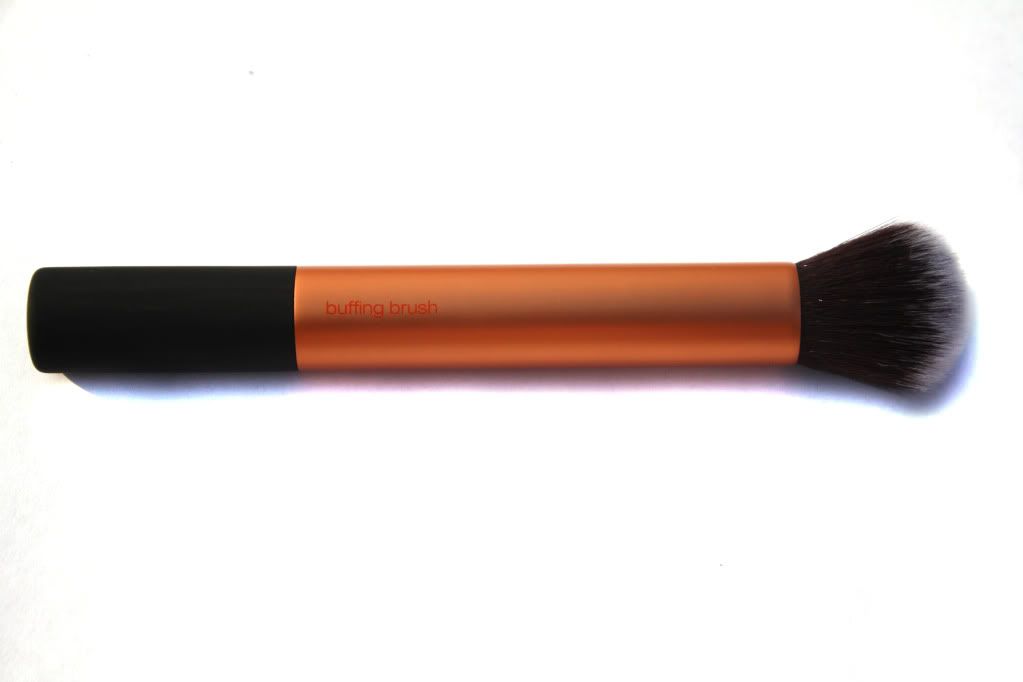 What it claims:
"ideal for full coverage application of powder and mineral foundation"
What it doesn't claim is that it is also ideal for liquid foundation, blush, highlight, contour, and setting powder. I'm a little in love with this bad boy.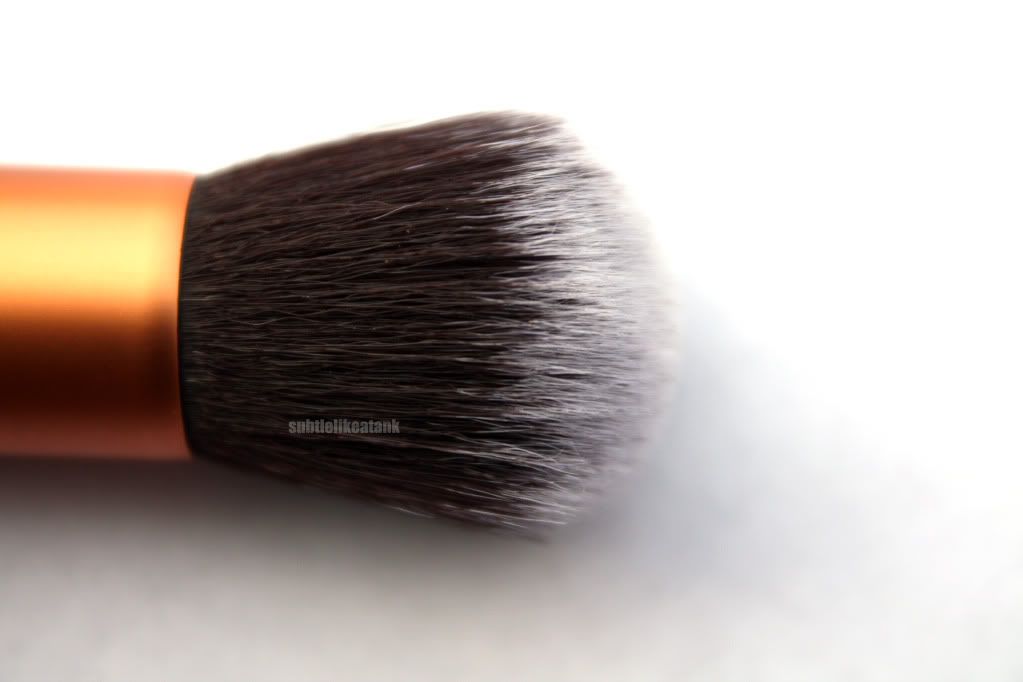 Now, I love the effect that a 109 gives my liquid foundation. I don't love picking little black hairs off of my face for five minutes. You don't need to worry about losing hair with the Buffing brush, and liquid/gel/cream foundation won't ruin the brush head. I can usually coax medium coverage out of my MAC Face & Body foundation with this brush. I also like it for cream blush, liquid highlighter, and in a pinch, setting powder.
I usually use my 109 for contouring. The Buffing brush works equally well for this. It's big enough that I don't need to go over and over one spot, and it fits underneath my cheekbones, into my temples, and underneath my jaw.
I don't normally wear powder or mineral foundation, since my skin is dry and picky. I did test some leftover Urban Decay mineral foundation, and this brush gave a lovely application. I can definitely see where it would give full coverage.
Do I recommend this?
Yup. I love the contour brush and the buffing brush, and they alone are worth the $17.99 (minus 20%, thanks coupons!) I spent for them. I like that these brushes are little more specific, especially the shape of the contour brush. Definitely check these out if you're getting a little more sophisticated in your technique, but can't or don't want to spend the money on higher-end brushes.
A quick note: The Real Techniques Core Collection retails for $17.99 (or £11.34 or €13.76) at Ulta stores and www.ulta.com, which ships to the US only. This is a price increase of $2.00 since the set's introduction last summer. The set is sold at www.realtechniques.com for $18.00. Both Ulta and the Real Techniques website grant free shipping at $50. Boots has begun stocking these recently online and in-store in the UK. At Boots, this set is priced at £21.99 (or €26.68 or $34.79). At www.love-makeup.co.uk, which ships internationally, the brushes are £20.99 (or €25.46 or $33.21), free shipping at £75. I am still astounded by the price differential between the US and UK. Again, I'm not an expert on international trade, tariffs, VAT, whatever, but that difference does seem a little excessive. Definitely ask for a custom purchase from a US-based friend if you want to get your hands on these somewhere other than the US.
The 2-in-1 case:
I took a few pictures of the stand/case, so I'll stick them here. It's handy for travel, but I find myself storing these brushes the way I do all my others.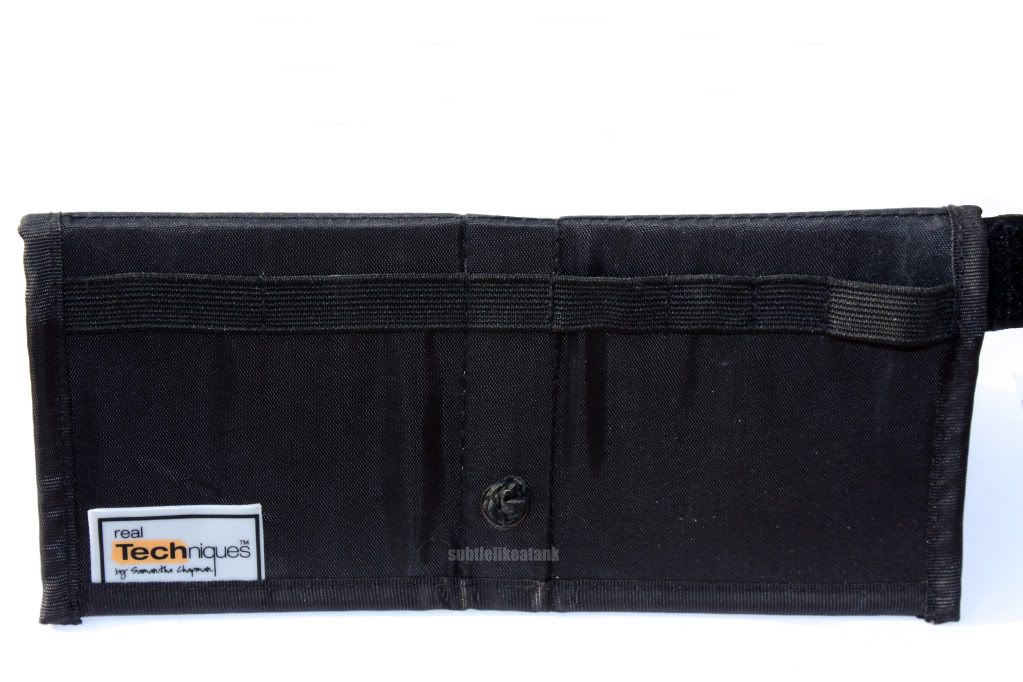 It doesn't take up too much room, which is nice.
More to come soon!